Nvidia has published official benchmark results of its upcoming GeForce RTX 4060 graphics card just a week ahead of its launch on June 29. The new $299 Ada Lovelace-based graphics card is shown to be across-the-board faster than its predecessor based on the Ampere architecture, but there is catch: the newcomer shows its most significant advantages with AI frame generation enabled. Without it, it is merely 20% faster, according to Nvidia.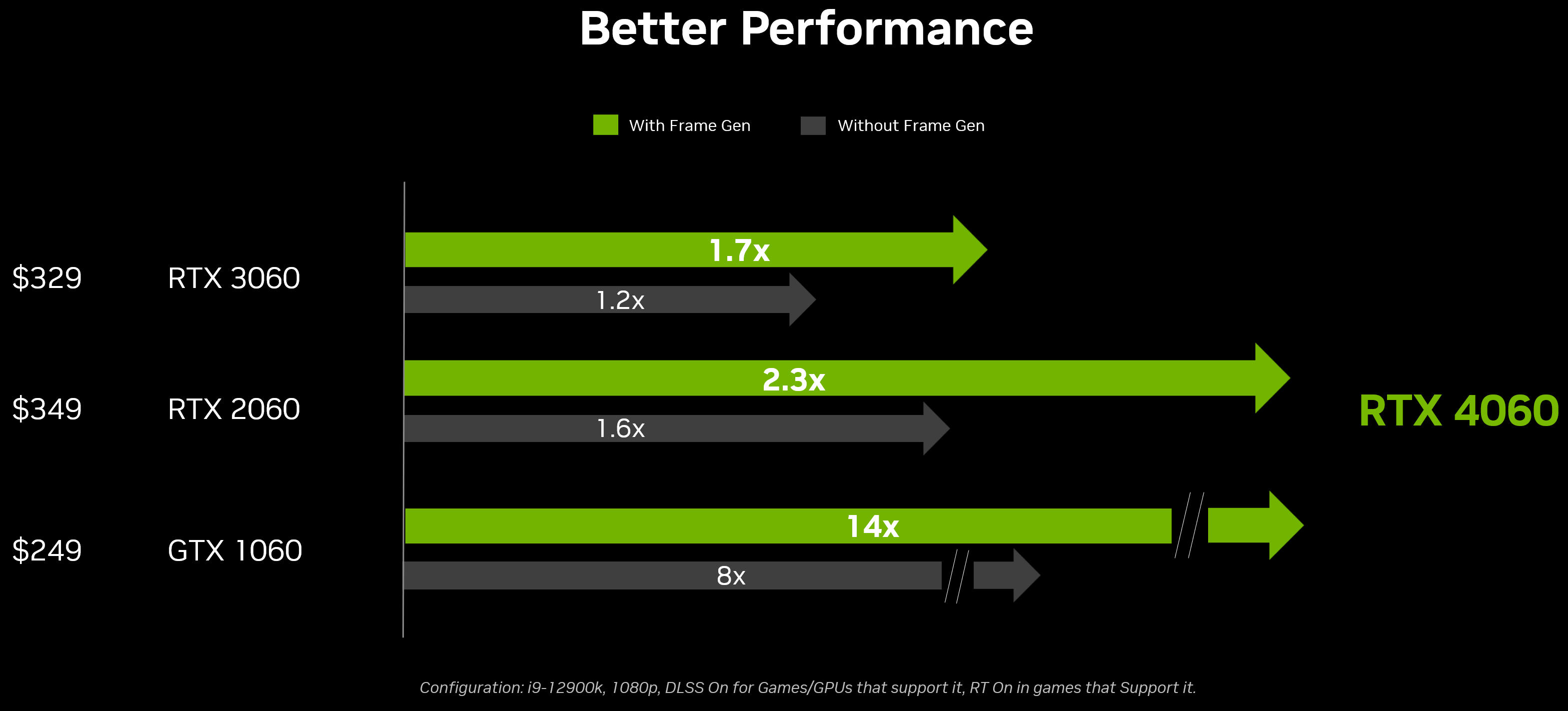 Nvidia's GeForce RTX 4060 graphics card is based on the AD106 GPU with 3072 CUDA cores enabled that has peak FP32 compute throughput of 15 TFLOPS, which is just 15% higher compared to GeForce RTX 3060 with its 13 FP32 TFLOPS. But the AD106 has noticeable advantages over GA106 in the form of massively improved ray tracing performance (+40%) and Tensor compute throughput (+137%). The latter can be used for AI, advanced DLSS 3 upscaling, and AI image generation workloads. We'll see if that's enough to make it one of the best graphics cards.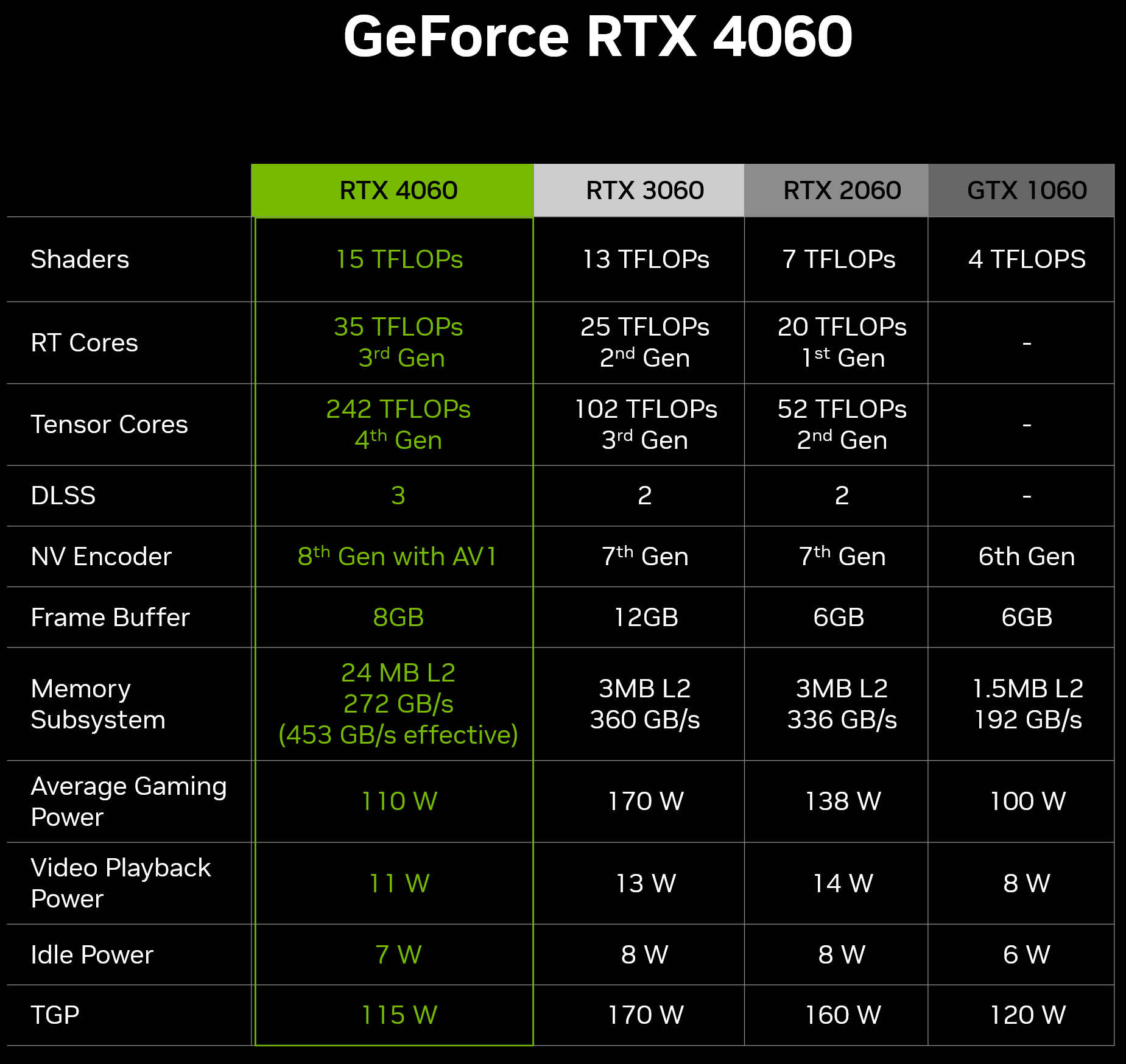 We can make guesses why Nvidia decided to balance its Ada Lovelace microarchitecture the way it balanced it, but it is obvious that the company will use benefits — DLSS 3 and AI image generation — that is has to outshine predecessors and competitors in games.
That said, it is not particularly surprising that Nvidia demonstrated its GeForce RTX 4060 with DLSS 3 and image generation enabled in as many games as possible, showing rather dramatic performance gains compared to its GeForce RTX 3060. This is indeed a major improvement of the new GeForce RTX 4060 graphics card as it can enable high framerates with all the eye candy enabled in the latest games, something the GeForce RTX 3060 just cannot do.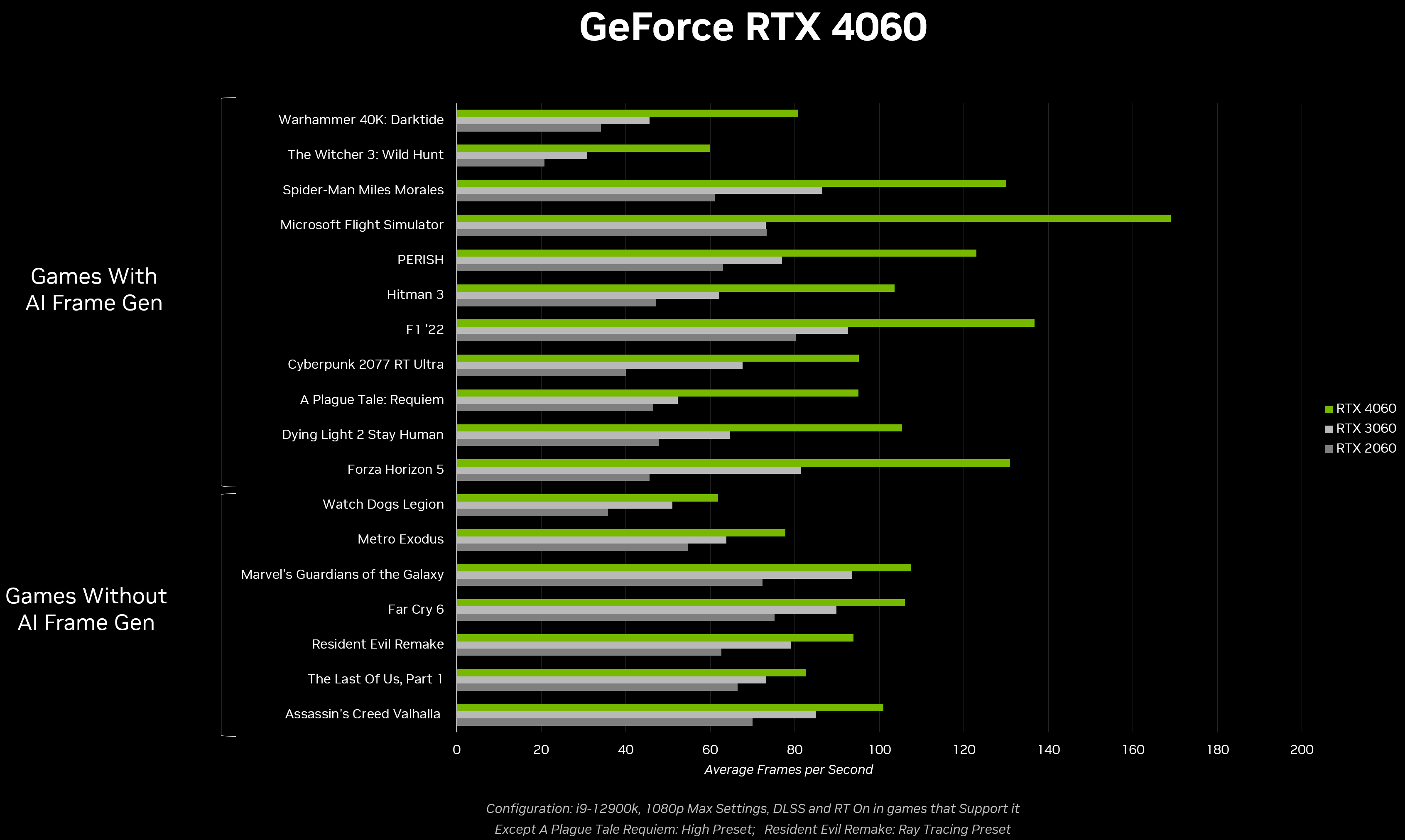 The company admits that far not all games support AI frame generation and this is where its GeForce RTX 4060 is only 20% faster than its predecessor. A 20% improvement is still not bad, only it is just not something one would expect from a new generation product based on the all-new architecture.
Nvidia considers lower power consumption of its GeForce RTX 4060 as another advantage of its new board as it will allow to save some money. Yet, this advantage is less obvious than performance gains.

Leading graphics cards manufacturers like Asus, Colorful, Gainward, Galax, Gigabyte, Inno3D, KFA2, MSI, Palit, PNY, and Zotac will be releasing the GeForce RTX 4060 graphics cards starting June 29. Nvidia's recommended price for GeForce RTX 4060 boards is $299, but expect products that will carry different price tags as well.